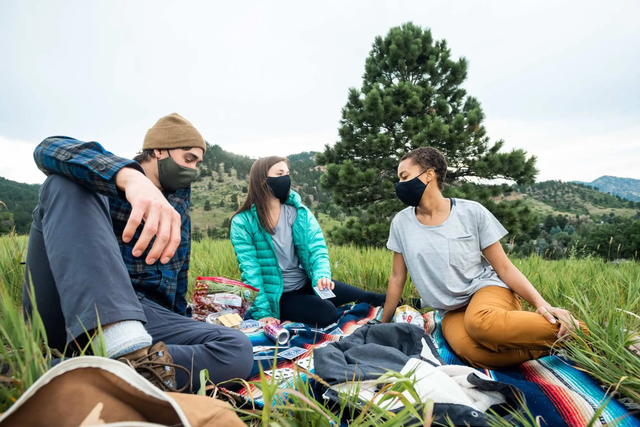 As Covid continues to surge through Oregon, Gov. Kate Brown has announced an outdoor mask requirement beginning Friday, Aug. 27. Adults and children over 5 will be asked to wear masks in outdoor settings where people are close to each other, unless they are actively eating or drinking, and people are encouraged to social distance from each other. Brown also encouraged people to wear masks when visiting people in their homes and social distance cannot be maintained.
Shortages of hospital beds, equipment, supplies and staff have caused Brown to act to stop the spread of the highly contagious Delta variant.
People will need to wear masks regardless of whether they are vaccinated. Although COVID vaccines are effective at preventing serious illness, hospitalization and death, public health officials are concerned about evidence that fully vaccinated people can still become infected and spread COVID to others, Brown said.
"The delta variant is spreading fast and wide, throwing our state into a level of crisis we have not yet seen in the pandemic," the governor said in a news release, noting that Oregon has experienced record numbers of new cases and hospitalizations so far in the ongoing delta-fueled wave. "Masks are a quick and simple tool we can immediately deploy to protect ourselves and our families, and quickly help stop further spread of COVID-19."
In Malheur County, cases are growing exponentially week after week, with 113 cases recorded in the week ending Aug. 20, "This is a frustrating situation for everyone," said Malheur County Health Department PIO Angie Sillonis. "There are steps we can all take to stop the spread of this virus. The first is to avoid large gatherings, the second is to wear masks when we're around other people, and the third is to get vaccinated," she said.
"Vaccination is the best way to get back to living our lives as we did before Covid," Sillonis said. Currently, 40 percent of eligible Malheur County residents are vaccinated against the novel coronavirus. That number needs to be higher than 80 percent to help keep our fellow community members safe, she added.
There are exceptions to the requirement, which align with the recent statewide indoor mask requirement. It does not apply to:
Children under 5
Individuals who are actively eating, drinking or sleeping, as well as individuals living outdoors
People playing or practicing competitive sports, or engaged in an activity in which it is not feasible to wear a mask, such as swimming
Individuals delivering a speech or performing, such as with outdoor music or theater
Mask requirements for K-12 schools will fall under the school mask rule. Outside public events, spectator events and gatherings of general public on K-12 school grounds will be subject to the rule
Entities subject to the ADA must continue to comply with that law