The time for ghosts, goblins and sticky sweets is approaching faster than you can say "Boo!" OK, maybe not that fast, but it is time to start preparing for a safe Halloween.
This year, if you plan to trick-or-treat or hand out candy, please keep these tips in mind for a fun and healthy outing: 
Get everyone 12 and older vaccinated so they can start to build their immunity.
Stay outdoors if you gather with people from another household.
Keep six feet of distance from the zombie dragons and pirates you pass. Even with the best of intentions, it's hard to predict whether a child will be able to maintain distance while trick-or-treating.
Wear a proper face covering. A plastic costume mask is not a COVID-safe face covering.
Remember it's not safe to wear a costume mask over a face covering, but decorating a child's face covering might bring an added touch of fun to their costume!
Also remember it's not safe for children younger than 2 to wear a mask.  
Pay attention when going door-to-door. If one house looks a bit crowded with fellow trick-or-treaters, try another house that isn't as busy – you can always go back to that house later.
When trunk-or-treating:

consider arriving very early so you can be in front of the crowd when walking from trunk to trunk.
Leave space between your group and the group in front of you.
Allow the group in front of you to leave a trunk before you approach it.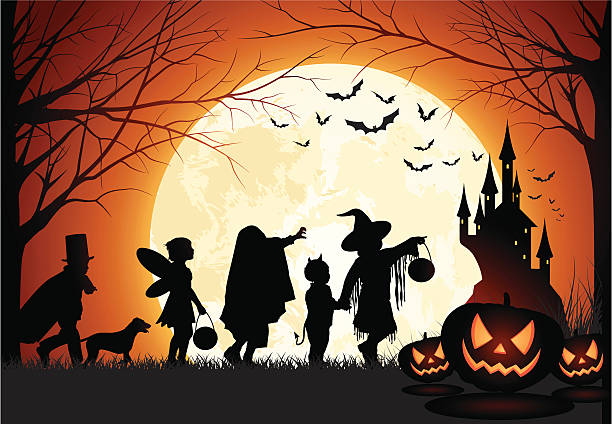 A few extra considerations:  
Choose practical shoes. Even little ones who ask to be carried on most days may suddenly find that they can't walk a marathon on Halloween.  
Carry a flashlight or glowstick or put reflective tape on costumes to help other people and drivers spot little goblins and superheroes.  
Discard candy if the wrapper is torn.  
Bring along hand sanitizer to use when needed.  
A special note about the one in 13 children living with food allergies: The Teal Pumpkin Project helps make trick-or-treating safer and more inclusive by asking people to offer non-food trinkets and treats that are safe for everyone. You can participate by placing a teal pumpkin on your porch or front steps. Food Allergy Research and Education (FARE) has more information about living with food allergies here.
Lastly, a reminder to drivers. Please slow down and be alert! Kids are excited and may run into the street. It's a good day to turn on your headlights early so trick-or-treaters can see you and you can spot them from farther away.
The Centers for Disease Control and Prevention (CDC) has more tips for safe trick-or-treating here.